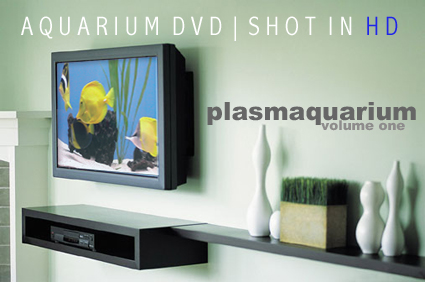 >>works on ALL TVs and in ALL DVD players, including Blu-Ray.<<
Turn ANY TV into a high-end aquarium with the ORIGINAL Plasmaquarium™ Vol. I DVD - the BEST SELLING Aquarium DVD in the world!

Our Plasmaquarium Vol. I DVD features 9 different aquariums with dozens of saltwater and freshwater fish, tropical fish, eel and even our exclusive
SHARK TANK!
How cool will your widescreen TV look with our Caribbean Queen shark swimming in it!

The Plasmaquarium™ Vol. I aquarium DVD replicates the look of a high-end custom aquarium. You've spent a lot of money to create your state of the art home entertainment system, so don't just buy any standard "fish tank" video.

The Plasmaquarium™ Vol. I DVD is the FIRST aquarium DVD designed specially for widescreen Plasma & LCD TVs and it's the FIRST aquarium DVD shot in stunning 16x9 High Definition (HDTV).
It will even work on regular 4x3 television sets
without stretching the picture or adding ugly black bars on the sides and top.
Want to see how the Plasmaquarium™ Vol. I DVD will look on your TV?
Click here for sample images and downloadable videos.

Works on both widescreen and regular TVs without stretching the picture.
So what makes The Plasma Window Plasmaquarium™ Vol. I DVD a cut above the rest? Quality. The exotic marine life used in the Plasmaquarium™ DVD are the same creatures you will find swimming in the world's best custom aquariums.

Each scene is shot in 720p High Definition and is the ONLY aquarium DVD available in HDTV. Even our non-HD Plasmaquarium™ Vol. I DVD uses Enhanced Definition and progressive scan technology to create life-like aquarium scenes.

We've designed this DVD to be safer for Plasma TVs than other aquarium DVDs. Each scene plays for 4 to 10 minutes before cycling to the next tank. This helps prevent image burn-in on Plasma TVs. Our custom DVD menus also allow you to loop each individual tank scene indefinitely. (Extended looping of only one tank not recommended for Plasma TVs.)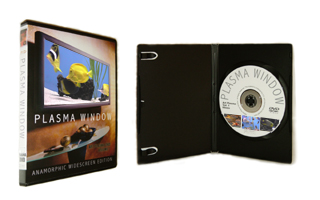 Select from several Dolby® Digital soundtracks - The natural sound of the aquarium, a jazzy "chill" soundtrack, or a classic relaxation soundtrack. The Plasmaquarium™ Vol. I DVD provides hours of relaxation and entertainment for the whole family and is great for parties or offices.
The Plasmaquarium™ Vol. I DVD is available now.
Dolby is a registered trademark of Dolby Laboratories.
___________________________________________________________
And be sure to check out our NEW Plasmaquarium Vol. II DVD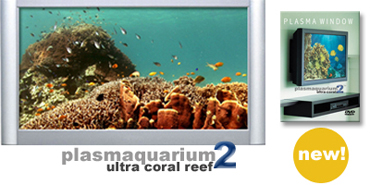 ___________________________________________________________

Have a Blu-Ray player? Check out our new BluScenes Blu-Ray Aquarium disc.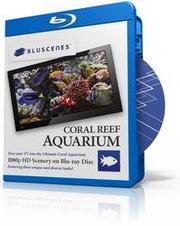 © 2017 Plasma Window™