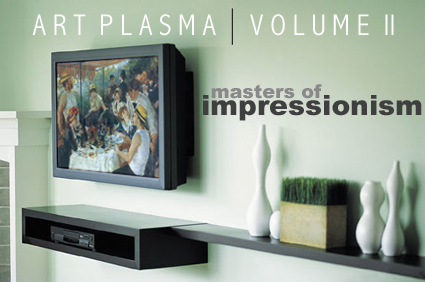 >>works on ALL TVs and in ALL DVD players, including Blu-Ray.<<

Turn any TV into a work of art with the new, Plasma Window "Art Plasma II - Masters of Impressionism" DVD.
Produced in conjunction with Dream City Inc., the "Masters of Impressionism" DVD features works from several of the world's finest Impressionist masters.

Enjoy dozens of paintings by Cezanne, Degas, Manet, Monet, Morisot, Pissaro, Renoir, Seurat, Sisley, Van Gogh and more as they alternate on your TV screen. It's the ultimate design item for today's modern home, and the perfect way to turn your high-end display into a rotating gallery of the world's finest art.


Perfect for entertaining and relaxing, turn any room into a virtual art gallery. Each painting displays for two minutes before cycling to the next painting. The user can turn on or off informative subtitles which display the name of each work, the artist and year of creation. The DVD will loop indefinitely until the user presses stop.

Some works may appear with bars on either side to maintain the artist's original canvas.
Select from a Classical music soundtrack featuring Bach and Chopin or a soothing Relaxation soundtrack. The DVD is mastered in Dolby Digital Surround sound for the complete Home Theater experience.

The "Art Plasma II - Masters of Impressionism" DVD is a must have for any art enthusiast. Simple, easy to use menus will have you displaying the world's most famous works of art in seconds.

The DVD is optimized for widescreen displays. Some works may appear with black bars on either side to preserve the original aspect ratio of each artist's work.
The Art Plasma™ Vol. II, Masters of Impressionism DVD is available now!
Dolby is a registered trademark of Dolby Laboratories.




© 2007 Plasma Window™ | Dream City Inc.